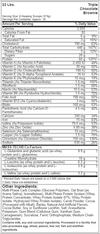 MT MassTech Extreme 2000
Sale price
$110.00
Regular price
THE ULTIMATE 100 percent WHEY PROTEIN+ MASS GAINER
 

Mass-Tech Extreme 2000 is a 5-in-1 hardcore mass gainer designed for individuals looking to put on extreme mass. Mass-Tech Extreme 2000 has everything you need to bulk up, pack on muscle and smash through strength plateaus

MUSCLE BUILDER – Mass-Tech Extreme 2000 delivers more protein per serving than most other mass gainers. With a whopping 80g of premium protein, your body will have all the building blocks it needs to build the size and muscle you're looking for

SUPERIOR WEIGHT GAINER – It's clean and simple. Delivers more protein (80g), better calories and bigger results than other mass gainers, with the macros you need to pack on quality mass

CREATINE MONOHYDRATE – Mass-Tech Extreme 2000 contains a clinically validated 10g dose of creatine monohydrate to help you increase strength and regenerate ATP stores that are reduced during resistance training

DAILY WORKOUT SUPPLEMENTS – Mix 1 serving with 20 oz of water or skim milk in a blender and consume once daily, either in the morning, between meals or post-workout
Let's face it size is king! Nothing tells people that you're a bodybuilder more than a hulking frame complete with wide shoulders, big arms, a powerful chest and back, and a set of tree trunk legs. Bodybuilders, powerlifters and weightlifters alike are always looking for a supplement to help them blow the doors off the size game. Whether you're stuck in a frustrating growth plateau or just have a hard time packing on mass, you now have help breaking through your roadblock. It's called MASS TECH EXTREME 2000!
Team MuscleTech researchers have engineered a brand new, 5 in 1, hardcore mass gainer designed for individuals looking to put on an extreme amount of mass. MASS TECH EXTREME 2000 features 80g of protein, over 400g of carbs and 2,000 mass producing calories, plus 8g of L leucine (when mixed with 16 Ounce . of skim milk), 10g of creatine, and 20 vitamins and minerals.
The ideal macronutrient profile in MASS TECH EXTREME 2000 is perfect for bodybuilders and other athletes who are looking to build muscle and increase strength without adding extra fat to their physique. Reap the rewards of all your hard work in the gym MASS TECH EXTREME 2000 has everything you need to bulk up, pack on muscle, smash through strength plateaus and make the kind of mass gains you've never experienced before! Provides a rapidly absorbed, high biological value protein that your body can easily assimilate to build some seriously impressive muscle.
Important information
Safety Information
Not intended for use by persons under 18. Do not use if pregnant or nursing. Child-bearing age women should limit daily vitamin A intake to 10,000 IU (excludes beta-carotene). Consult a medical doctor if you have a medical condition or before starting any diet or exercise program. KEEP OUT OF REACH OF CHILDREN. This product is labelled to United States standards and may differ from similar products sold elsewhere in its ingredients, labeling and allergen warnings
Ingredients
Multi-Phase Carb Complex (Glucose Polymers, Oat Bran (as Avena sativa), Isomaltulose), Multi-Phase Protein System (Whey Protein Concentrate, Whey Protein Isolate 97%, Whey Protein Isolate, Hydrolyzed Whey Protein Isolate), Cocoa (Processed with Alkali), Natural and Artificial Flavors,Cocoa Extender (Carob Powder, Coconut oil, Corn syrup solids, Sodium Caseinate, Monao and Dighycerides, Dipotassium Phosphate, Silicon Dioxide, Natural Flavour) Salt, Soy or Sunflower Lecithin, Sucralose, Acesulfame-Potassium, GumBlend (cellulose Gum, Xanthan Gum, CArrageenan), Ferric Orthophosphate, Medium Chain Triglycerides. Contains milk, soy and coconut ingresdients.Processed in a facility that also processed egg, wheat, peanut, tree nut, fish and shellfish ingredients.
Legal Disclaimer
Statements regarding dietary supplements have not been evaluated by the FDA and are not intended to diagnose, treat, cure, or prevent any disease or health condition.