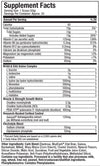 MT CellTech Elite
Sale price
$45.00
Regular price
CREATINE POWDER – Cell-Tech Elite is engineered with the most researched form of creatine – and is now packed with even more essential musclebuilders, fewer carbs plus added electrolytes. It now features Sensoril and PEAK ATP to amplify muscle growth



CREATINE MONOHYDRATE + CREATINE HCL – This high-octane formula provides your muscles with a premium 5g dose of an HPLC-certified creatine blend, as creatine monohydrate and creatine HCl. Plus, a 400mg dose of PEAK ATP to go heavier for more reps
5G
CREATINE MATRIX
Delivers premium, top-grade creatine in every dose. Creatine helps your muscles produce energy during heavy lifting. 
400MG
PEAK ATP®
A primary source of energy for your cells, helping to maximize your performance. Clinically shown to help you build more muscle. 

6G
EAAS
Aminos help slow muscle breakdown and promote muscle growth.  
4G
BCAAS
The building blocks to support rapid recovery. When you use BCAAs to help meet your daily protein requirements, you'll promote better strength gains.


*Take up to 2 times per day. Take 1 scoop for powerful results, 2 scoops for extreme results. On workout days, take 1 serving 30 to 45 minutes before training. As with all creatine products, maintain an adequate state of hydration during use.