---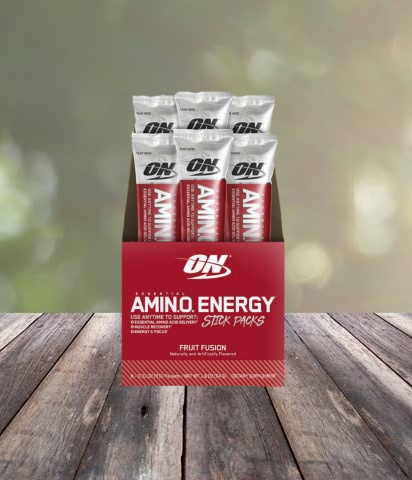 ON Amino Energy Sachet
---
Product Overview
Essential AmiN.O. Energy
Amino Acid Powder with Caffeine from Natural Sources!
Designed to Support Muscle Endurance and Recovery*
6 stick pack
TIPS:
ESSENTIAL AMINO ENERGY contains 50 mg of caffeine per scoop, so do not consume after 5:00 PM if you have difficulty sleeping. ESSENTIAL AMINO ENERGY also contains beta-Alanine and may cause a temporary tingling sensation on your skin. This is normal. With continued use, the intensity of the sensation will decrease or disappear. Also, some people may have a sensitive stomach and will not tolerate green tea extract well on an empty stomach. If this is you, be sure to take with meals.
STICK PACKETS: 
BOTTLE OF WATER: Take a sip from a full 16.9 oz. bottle of water to make room for the powder. Add one packet of AMIN.O. ENERGY™ and shake bottle to mix well until powder dissolves.
RATINGS & REVIEWS