---
MT Performance Series Vapor X5 Ripped
---
PRODUCT OVERVIEW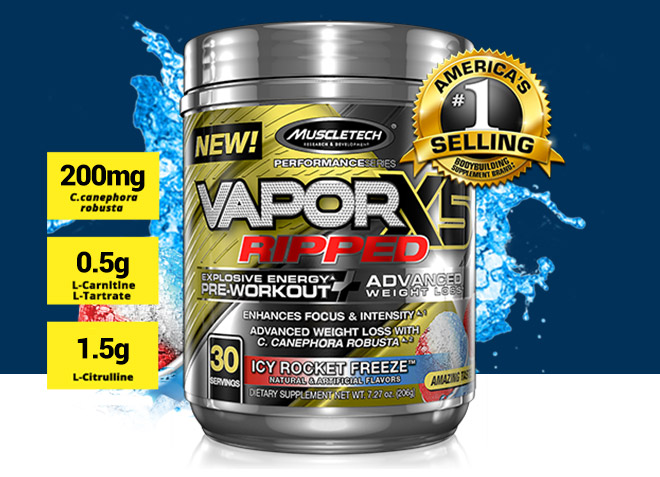 WAPORX5 NEXT GEN RIPPED
ENHANCES FOCUS & INTENSITY*
ADVANCED WEIGHT LOSS*
EXPLOSIVE ENERGY*
ADVANCED WEIGHT LOSS PLUS MATRIX
VaporX5™ Ripped features the key ingredient C. canephora roubsta, which has been shown in two double-blind, placebo-controlled studies to help subjects lose weight.*
Subjects taking the key ingredient in VaporX5 Ripped (C. canephora roubsta) for 60 days lost, on average, 10.95 lbs. (vs. 5.40 lbs. for placebo) with a low-calorie diet, and 3.7 lbs. (vs. 1.25 lbs. for placebo) in a separate 8-week study with a calorie-reduced diet and moderate exercise.*
FLAVOR THAT'S SECOND TO NONE!
VaporX5™ Ripped was flavored by experts in one of the world's top flavoring houses! Our goal was to make it taste better than any other pre-workout powder on the market, and we're confident you'll love the delicious flavor of every serving!
AVAILABLE IN THESE DELICIOUS FLAVORS:
SUPERIOR TO THE COMPETITION
The key to the extreme effectiveness of VaporX5TM Next Gen is the doses of its key ingredients. While other pre-workouts may have some of the same ingredients, only VaporX5 Next Gen has them in doses that correlate to published human, clinical studies. Pixie-dusting ingredients and hiding them in proprietary blends doesn't translate into gains. Trust VaporX5 Next Gen to be there when it's time to take your training and your physique to new levels, delivering uncompromising potency and power!*
TESTED FOR QUALITY AND PURITY
To ensure a high standard of quality, each batch of VaporX5™ Next Gen also undergoes strict quality control and is third-party tested and verified to ensure that each bottle meets the highest standards of purity, quality and consistency.
Directions For Vapor X5 Ripped:
To assess individual tolerance consume 1 scoop of VaporX5™ Ripped in 6 oz. of water per day for up to 3 days, then follow directions below.
DIRECTIONS FOR WEIGHT LOSS: Mix 1 serving (1 scoop) with 6 oz. of cold water and consume 30 minutes before your 2 largest meals daily. For best results, use for a minimum of 60 days in conjunction with diet and exercise. Do not snack between meals or before bed. Do not exceed 2 servings (2 scoops) in a 24-hour period.
DIRECTIONS FOR PRE-WORKOUT: For more energy, mix 2 servings (2 scoops) with 12 oz. of cold water and consume 30 minutes before your workout. Do not take within 5 hours of bedtime. Read entire label before use and follow directions provided.
Warnings: Not intended for use by persons under 18. Do not use if pregnant or nursing. One serving of this product contains up to as much caffeine as 2 cups of coffee. Caffeine-sensitive individual may experience symptoms including (but not limited to) restlessness, nervousness, tremors, anxiety, increased heart rate or difficulty sleeping. Do not combine with other sources of caffeine or stimulants. Some individuals may experience a harmless tingling sensation from the concentrated performance dose of beta-alanine. Consult a medical doctor if you have a medical condition or before starting any diet or exercise program. KEEP OUT OF REACH OF CHILDREN.
RATINGS & REVIEWS