---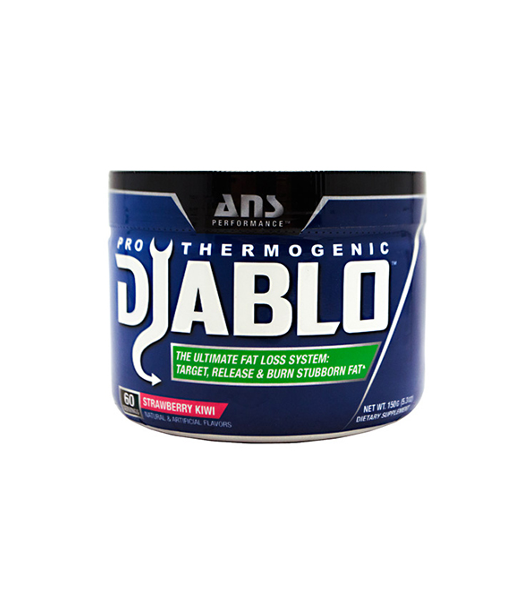 ANS Diablo Pro Thermo
---
Key features:
-Advanced Pro-Thermogenic -FEEL the Heat
-Target & Released Stubborn Fat for Energy
-Retrain Your Body to Preferentially Burn Fat
-Increase Energy, Mood & Motivation
-Adaptable Dosing for a Custom Solution
Directions For DIABLO: Shake container well before opening. Begin with 1 scoop mixed with 4-6 oz of water on an empty stomach 15-30 minutes before breakfast for the first 2 days to assess tolerance. An additional 1 scoop may be taken 5-6 hours later. Once the above steps have been taken, 1 additional scoop may be added to the morning serving (mix 2 scoops in 8 oz of water). Do not exceed the initial dose schedule. Read entire label before use. DO NOT EXCEED 3 SCOOPS IN ANY 24-HOUR PERIOD.
Warnings: Not intended for use by persons under 18. Do not use if pregnant or nursing. Consult a medical doctor before use if you have been treated for, or diagnosed with any medical condition, or if you are taking a MAOI (Monoamine Oxidase Inhibitor), or using any prescription or over-the-counter drug(s). This product contains caffeine. Caffeine sensitive individuals may experience the following symptoms including (but not limited to) restlessness, tremors, headache, anxiety, palpitations, increased heart rate, or difficulty sleeping. Do not combine with other sources of caffeine. Discontinue use and call a medical doctor if you experience unusual symptoms. Use only as directed. Do not exceed recommended serving under any circumstances. Do not use if packaging has been tampered with. Store in a cool dry place. KEEP OUT OF REACH OF CHILDREN.